On special offer
Our bestseller
-27%
Marilyn/B2 soft bra
B-202More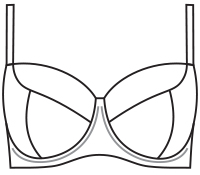 CUPS - CONSTRUCTION: Three-piece cups with one oblique and one vertical cut
CUPS - TYPE AND FINISH: Cups sewn from embroidery, lace or jersey. Side panels provides better support and brings the breast together towards the center.
CENTER: mid-high
BUST TYPE AND SILHOUETTE: It fits most silhouettes and breasts. Thanks to elastic material it adjust to the bust.  Recommended for delicate breast asymmetry.
EFFECT: The breast is lifted up and looks naturally. Side panels from delicate mesh provides better support.
Detailed information
Elegant soft cup bra designed for larger bust sizes. Slightly elastic semi-sheer fabric provides perfect fit and support. Decorated with a delicate ribbon bow with a gem stone at the front panel for a beautiful touch.
Three-piece underwired soft cups,
Part of a cup underlaid with elastic tulle for better support,
Adjustable, non-detachable shoulder straps,
Side boning prevents bra band folding up over itself,
Available in B-J cup sizes.
| Size | Under bust (cm) | Bust (cm) |
| --- | --- | --- |
| 65E | 63-67 | 85-87 |
| 65F | 63-67 | 87-89 |
| 65G | 63-67 | 89-91 |
| 65H | 63-67 | 91-93 |
| 65I | 63-67 | 93-95 |
| 65J | 63-67 | 95-97 |
| 70D | 68-72 | 88-90 |
| 70E | 68-72 | 90-92 |
| 70F | 68-72 | 92-94 |
| 70G | 68-72 | 94-96 |
| 70H | 68-72 | 96-98 |
| 70I | 68-72 | 98-100 |
| 70J | 68-72 | 100-102 |
| 75C | 73-77 | 91-93 |
| 75D | 73-77 | 93-95 |
| 75E | 73-77 | 95-97 |
| 75F | 73-77 | 97-99 |
| 75G | 73-77 | 99-101 |
| 75H | 73-77 | 101-103 |
| 75I | 73-77 | 103-105 |
| 75J | 73-77 | 105-107 |
| 80B | 78-82 | 94-96 |
| 80C | 78-82 | 96-98 |
| 80D | 78-82 | 98-100 |
| 80E | 78-82 | 100-102 |
| 80F | 78-82 | 102-104 |
| 80G | 78-82 | 104-106 |
| 80H | 78-82 | 106-108 |
| 80I | 78-82 | 108-110 |
| 80J | 78-82 | 110-112 |
| 85B | 83-87 | 99-101 |
| 85C | 83-87 | 101-103 |
| 85D | 83-87 | 103-105 |
| 85E | 83-87 | 105-107 |
| 85F | 83-87 | 107-109 |
| 85G | 83-87 | 109-111 |
| 85H | 83-87 | 111-113 |
| 85I | 83-87 | 113-115 |
| 85J | 83-87 | 115-117 |
| 90B | 88-92 | 104-106 |
| 90C | 88-92 | 106-108 |
| 90D | 88-92 | 108-110 |
| 90E | 88-92 | 110-112 |
| 90F | 88-92 | 112-114 |
| 90G | 88-92 | 114-116 |
| 90H | 88-92 | 116-118 |
| 90I | 88-92 | 118-120 |
| 90J | 88-92 | 120-122 |
| 95B | 93-97 | 109-111 |
| 95C | 93-97 | 111-113 |
| 95D | 93-97 | 113-115 |
| 95E | 93-97 | 115-117 |
| 95F | 93-97 | 117-119 |
| 95G | 93-97 | 119-121 |
| 95H | 93-97 | 121-123 |
| 95I | 93-97 | 123-125 |
| 100D | 98-102 | 118-120 |
| 100E | 98-102 | 120-122 |
| 100F | 98-102 | 122-124 |
| 100G | 98-102 | 124-126 |
| 100H | 98-102 | 126-128 |