B-210More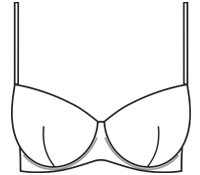 CUPS - CONSTRUCTION: One-piece or two-piece-cups with a vertical cut
CUPS - TYPE AND FINISH:  Cups sewn from embroidery, lace, jersey or simplex.
CENTER: mid-low
BUST TYPE AND SILHOUETTE: Best for small and middle breasts. Recommended for deep cleavage.
EFFECT: The breast looks naturally, is gently lifted up and brought together towards the front.
Description
Seductive bra with soft cups provides an attractive neckline. Made of black tulle covered with pleasant flock with floral pattern. An elegant ornament placed between the cups adds a pretty touch.
Soft, underwired cups,
Bra back made of elastic tulle,
Adjustable, non-detachable double straps crossing on the back.
| Size | Under bust (cm) | Bust (cm) |
| --- | --- | --- |
| 65B | 63-67 | 79-81 |
| 65C | 63-67 | 81-83 |
| 65D | 63-67 | 83-85 |
| 65E | 63-67 | 85-87 |
| 65F | 63-67 | 87-89 |
| 70A | 68-72 | 82-84 |
| 70B | 68-72 | 84-86 |
| 70C | 68-72 | 86-88 |
| 70D | 68-72 | 88-90 |
| 70E | 68-72 | 90-92 |
| 70F | 68-72 | 92-94 |
| 75A | 73-77 | 87-89 |
| 75B | 73-77 | 89-91 |
| 75C | 73-77 | 91-93 |
| 75D | 73-77 | 93-95 |
| 75E | 73-77 | 95-97 |
| 80B | 78-82 | 94-96 |
| 80C | 78-82 | 96-98 |
| 80D | 78-82 | 98-100 |
| 85B | 83-87 | 99-101 |
| 85C | 83-87 | 101-103 |