B-204AMore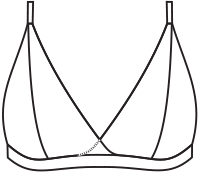 CUPS - CONSTRUCTION: Sewn, two-piece cups.
CUPS - TYPE AND FINISH: Triangle shape cups sewn from embroidery, lace or jersey.
CENTER: low
BUST TYPE AND SILHOUETTE: Best for small and medium breasts, rather firm. Perfect for deep neckline.
EFFECT: The breast looks naturally.
Detailed information
Seductive wireless bralette designed to provide maximum comfort. Cups overlaid with original lace with floral motif and satin finish.
Bra back made of lace,
Adjustable, non-detachable shoulder straps,
Subtle ornament placed between the cups adds a pretty touch.
| Size | Under bust (cm) | Bust (cm) |
| --- | --- | --- |
| 65B | 63-67 | 79-81 |
| 65C | 63-67 | 81-83 |
| 65D | 63-67 | 83-85 |
| 65E | 63-67 | 85-87 |
| 65F | 63-67 | 87-89 |
| 70A | 68-72 | 82-84 |
| 70B | 68-72 | 84-86 |
| 70C | 68-72 | 86-88 |
| 70D | 68-72 | 88-90 |
| 70E | 68-72 | 90-92 |
| 70F | 68-72 | 92-94 |
| 75A | 73-77 | 87-89 |
| 75B | 73-77 | 89-91 |
| 75C | 73-77 | 91-93 |
| 75D | 73-77 | 93-95 |
| 75E | 73-77 | 95-97 |
| 80B | 78-82 | 94-96 |
| 80C | 78-82 | 96-98 |
| 80D | 78-82 | 98-100 |
| 85B | 83-87 | 99-101 |
| 85C | 83-87 | 101-103 |