B-309More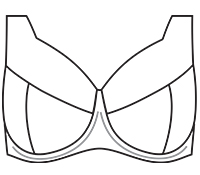 CUPS - CONSTRUCTION: Four-piece cups with one oblique, one vertical cut and one extra oblique cut next to the strap
CUPS - TYPE AND FINISH: Cups sewn. Lower part of cups made of thin corsetry foam. Upper – semi-transparent, usually made of lace which is also extended as a part of the strap.
CENTER: high
BUST TYPE AND SILHOUETTE: Best for full and big breast. Perfect for bit more covered necklines. Recommended for delicate breast asymmetry.
EFFECT: Optically lifts up, round the breast and brings it together towards the front.
Detailed information
A charming semi-padded bra perfectly shapes the breasts. The cups are made of lace with a subtle, floral pattern.
Three-piece semi-padded cups,
Lower cups made of thin corsetry foam overlaid with cotton from the inside,
Bra back made of enchanced tulle,
Adjustable, non-detachable shoulder straps,
Side boning prevents bra band folding up over itself,
An elegant ornament placed between the cups adds a pretty touch.
| Size | Under bust (cm) | Bust (cm) |
| --- | --- | --- |
| 65D | 63-67 | 83-85 |
| 65E | 63-67 | 85-87 |
| 65F | 63-67 | 87-89 |
| 65G | 63-67 | 89-91 |
| 65H | 63-67 | 91-93 |
| 70C | 68-72 | 86-88 |
| 70D | 68-72 | 88-90 |
| 70E | 68-72 | 90-92 |
| 70F | 68-72 | 92-94 |
| 70G | 68-72 | 94-96 |
| 70H | 68-72 | 96-98 |
| 70I | 68-72 | 98-100 |
| 70J | 68-72 | 100-102 |
| 75B | 73-77 | 89-91 |
| 75C | 73-77 | 91-93 |
| 75D | 73-77 | 93-95 |
| 75E | 73-77 | 95-97 |
| 75F | 73-77 | 97-99 |
| 75G | 73-77 | 99-101 |
| 75H | 73-77 | 101-103 |
| 75I | 73-77 | 103-105 |
| 75J | 73-77 | 105-107 |
| 80B | 78-82 | 94-96 |
| 80C | 78-82 | 96-98 |
| 80D | 78-82 | 98-100 |
| 80E | 78-82 | 100-102 |
| 80F | 78-82 | 102-104 |
| 80G | 78-82 | 104-106 |
| 80H | 78-82 | 106-108 |
| 80I | 78-82 | 108-110 |
| 80J | 78-82 | 110-112 |
| 85B | 83-87 | 99-101 |
| 85C | 83-87 | 101-103 |
| 85D | 83-87 | 103-105 |
| 85E | 83-87 | 105-107 |
| 85F | 83-87 | 107-109 |
| 85G | 83-87 | 109-111 |
| 85H | 83-87 | 111-113 |
| 85I | 83-87 | 113-115 |
| 85J | 83-87 | 115-117 |
| 90B | 88-92 | 104-106 |
| 90C | 88-92 | 106-108 |
| 90D | 88-92 | 108-110 |
| 90E | 88-92 | 110-112 |
| 90F | 88-92 | 112-114 |
| 90G | 88-92 | 114-116 |
| 90H | 88-92 | 116-118 |
| 90I | 88-92 | 118-120 |
| 90J | 88-92 | 120-122 |
| 95B | 93-97 | 109-111 |
| 95C | 93-97 | 111-113 |
| 95D | 93-97 | 113-115 |
| 95E | 93-97 | 115-117 |
| 95F | 93-97 | 117-119 |
| 95G | 93-97 | 119-121 |
| 95H | 93-97 | 121-123 |
| 95I | 93-97 | 123-125 |
| 100D | 98-102 | 118-120 |
| 100E | 98-102 | 120-122 |
| 100F | 98-102 | 122-124 |
| 100G | 98-102 | 124-126 |
| 100H | 98-102 | 126-128 |