B-204AMore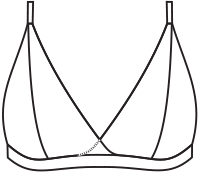 CUPS - CONSTRUCTION: Sewn, two-piece cups.
CUPS - TYPE AND FINISH: Triangle shape cups sewn from embroidery, lace or jersey.
CENTER: low
BUST TYPE AND SILHOUETTE: Best for small and medium breasts, rather firm. Perfect for deep neckline.
EFFECT: The breast looks naturally.
Detailed information
A charming, soft bra provides maximum comfort while wearing. The cups are made of tulle covered with soft flock dots.
Wireless soft cups,
Adjustable, non-removable shoulder straps,
Closure at the front,
Circuit made of elastic ribbon,
Extended bottom made of tulle.
| Size | Under bust (cm) | Bust (cm) |
| --- | --- | --- |
| 65B | 63-67 | 79-81 |
| 65C | 63-67 | 81-83 |
| 65D | 63-67 | 83-85 |
| 65E | 63-67 | 85-87 |
| 65F | 63-67 | 87-89 |
| 70A | 68-72 | 82-84 |
| 70B | 68-72 | 84-86 |
| 70C | 68-72 | 86-88 |
| 70D | 68-72 | 88-90 |
| 70E | 68-72 | 90-92 |
| 70F | 68-72 | 92-94 |
| 75A | 73-77 | 87-89 |
| 75B | 73-77 | 89-91 |
| 75C | 73-77 | 91-93 |
| 75D | 73-77 | 93-95 |
| 75E | 73-77 | 95-97 |
| 80B | 78-82 | 94-96 |
| 80C | 78-82 | 96-98 |
| 80D | 78-82 | 98-100 |
| 85B | 83-87 | 99-101 |
| 85C | 83-87 | 101-103 |