B-203More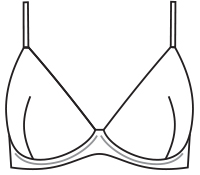 CUPS - CONSTRUCTION: One-piece cups 
CUPS - TYPE AND FINISH: Cups sewn from embroidery, lace or jersey.
CENTER: low
BUST TYPE AND SILHOUETTE: Best for small and medium breasts, rather firm. Perfect for deep neckline.
EFFECT: The breast looks naturally and is pushed together.
Detailed information
Elegant, soft bra beautifully emphasizes the feminine shapes. The cups are made of extraordinary embroidery. Decorated with romantic draping, which gives the Parisian character.
Soft cups with underwires,
Cups made of embroidery, back of tulle,
Non-detachable, adjustable straps.
| Size | Under bust (cm) | Bust (cm) |
| --- | --- | --- |
| 65B | 63-67 | 79-81 |
| 65C | 63-67 | 81-83 |
| 65D | 63-67 | 83-85 |
| 65E | 63-67 | 85-87 |
| 65F | 63-67 | 87-89 |
| 70A | 68-72 | 82-84 |
| 70B | 68-72 | 84-86 |
| 70C | 68-72 | 86-88 |
| 70D | 68-72 | 88-90 |
| 70E | 68-72 | 90-92 |
| 70F | 68-72 | 92-94 |
| 75A | 73-77 | 87-89 |
| 75B | 73-77 | 89-91 |
| 75C | 73-77 | 91-93 |
| 75D | 73-77 | 93-95 |
| 75E | 73-77 | 95-97 |
| 80B | 78-82 | 94-96 |
| 80C | 78-82 | 96-98 |
| 80D | 78-82 | 98-100 |
| 85B | 83-87 | 99-101 |
| 85C | 83-87 | 101-103 |