Allora/B3 half padded bra
B-302AMore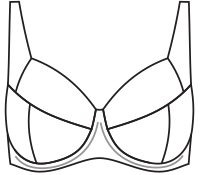 CUPS - CONSTRUCTION: Four-piece cups with one oblique, one vertical cut and one extra oblique cut next to the strap
CUPS - TYPE AND FINISH: Cups sewn. Lower part of cups made of thin corsetry foam. Upper – semi-transparent, usually made of lace which is also extended as a part of the strap.
CENTER: mid-high
BUST TYPE AND SILHOUETTE: Best for full or medium breast. Perfect for bit more covered necklines. Recommended for delicate breast asymmetry.
EFFECT: Optically lifts up, round the breast and brings it together towards the front.
Detailed information
Seductive half-padded bra perfectly lifts and shapes the bust for an amazing looking cleavage. Cups overlaid with original lace with leaf motif. An elegant ornament placed between the cups adds a pretty touch.
Three-piece cups,
Lower part of cups made of thin corsetry foam and lace, upper part made of lace,
Cups cotton coated inside for better comfort,
Removable inserts placed in special pockets,
Bra band made of tulle,
Adjustable, non-detachable shoulder straps,
Side boning prevents bra band folding up over itself.
Opinions about Allora/B3 half padded bra
5.00
Number of opinions issued: 3
Click the rating to filter reviews
| Size | Under bust (cm) | Bust (cm) |
| --- | --- | --- |
| 65C | 63-67 | 81-83 |
| 65D | 63-67 | 83-85 |
| 65E | 63-67 | 85-87 |
| 65F | 63-67 | 87-89 |
| 65G | 63-67 | 89-91 |
| 65H | 63-67 | 91-93 |
| 70B | 68-72 | 84-86 |
| 70C | 68-72 | 86-88 |
| 70D | 68-72 | 88-90 |
| 70E | 68-72 | 90-92 |
| 70F | 68-72 | 92-94 |
| 70G | 68-72 | 94-96 |
| 70H | 68-72 | 96-98 |
| 75B | 73-77 | 89-91 |
| 75C | 73-77 | 91-93 |
| 75D | 73-77 | 93-95 |
| 75E | 73-77 | 95-97 |
| 75F | 73-77 | 97-99 |
| 75G | 73-77 | 99-101 |
| 75H | 73-77 | 101-103 |
| 80B | 78-82 | 94-96 |
| 80C | 78-82 | 96-98 |
| 80D | 78-82 | 98-100 |
| 80E | 78-82 | 100-102 |
| 80F | 78-82 | 102-104 |
| 80G | 78-82 | 104-106 |
| 80H | 78-82 | 106-108 |
| 85B | 83-87 | 99-101 |
| 85C | 83-87 | 101-103 |
| 85D | 83-87 | 103-105 |
| 85E | 83-87 | 105-107 |
| 85F | 83-87 | 107-109 |
| 85G | 83-87 | 109-111 |
| 85H | 83-87 | 111-113 |
| 90B | 88-92 | 104-106 |
| 90C | 88-92 | 106-108 |
| 90D | 88-92 | 108-110 |
| 90E | 88-92 | 110-112 |
| 90F | 88-92 | 112-114 |
| 90G | 88-92 | 114-116 |
| 90H | 88-92 | 116-118 |
| 95B | 93-97 | 109-111 |
| 95C | 93-97 | 111-113 |
| 95D | 93-97 | 113-115 |
| 95E | 93-97 | 115-117 |
| 95F | 93-97 | 117-119 |
| 95G | 93-97 | 119-121 |
| 100D | 98-102 | 118-120 |
| 100E | 98-102 | 120-122 |
| 100F | 98-102 | 122-124 |