Charlize/PG1 push-up half-corset
PG-103More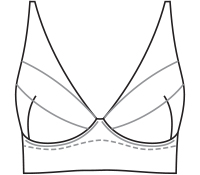 CUPS - CONSTRUCTION: Two-piece cups with an oblique cut 
CUPS - TYPE AND FINISH: Cups sewn from corsetry foam, outside decorated with jersey, lace or embroidery. Cotton coated inside for better comfort. Removable bra pads placed in special pockets. Extended bra band made of lace.
CENTER: low
BUST TYPE AND SILHOUETTE: It fits small or medium breasts, those with less and more space between them. Recommended for delicate breast asymmetry and pidgeon chest.
EFFECT: Optically enlarges breasts, pushes them together, delicately rounds and lifts up.
Detailed information
Sensuous push-up half-corset beautifully enhances the look of the cleavage. Styled in subtle lace embellished with floral pattern.
Two-piece cups made of thin corsetry foam,
Cups cotton coated inside for better comfort,
Removable inserts placed in special pockets,
Bra band made of lace and tulle,
Adjustable and non-detachable shoulder straps,
Side boning prevents bra band folding up over itself,
Glossy ornaments and a tassel are placed between the cups.
Opinions about Charlize/PG1 push-up half-corset
5.00
Number of opinions issued: 1
Click the rating to filter reviews
| Size | Under bust (cm) | Bust (cm) |
| --- | --- | --- |
| 65B | 63-67 | 79-81 |
| 65C | 63-67 | 81-83 |
| 65D | 63-67 | 83-85 |
| 65E | 63-67 | 85-87 |
| 65F | 63-67 | 87-89 |
| 70A | 68-72 | 82-84 |
| 70B | 68-72 | 84-86 |
| 70C | 68-72 | 86-88 |
| 70D | 68-72 | 88-90 |
| 70E | 68-72 | 90-92 |
| 70F | 68-72 | 92-94 |
| 75A | 73-77 | 87-89 |
| 75B | 73-77 | 89-91 |
| 75C | 73-77 | 91-93 |
| 75D | 73-77 | 93-95 |
| 75E | 73-77 | 95-97 |
| 80B | 78-82 | 94-96 |
| 80C | 78-82 | 96-98 |
| 80D | 78-82 | 98-100 |
| 85B | 83-87 | 99-101 |
| 85C | 83-87 | 101-103 |