B-101More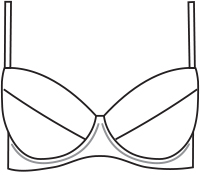 CUPS - CONSTRUCTION: Two-piece cups with an oblique cut 
CUPS - TYPE AND FINISH:  Cups sewn from corsetry foam, outside decorated with jersey, lace or embroidery.   Cotton coated inside for better comfort.   Removable bra pads placed in special pockets.  
CENTER: mid-high
BUST TYPE AND SILHOUETTE: It fits most silhouettes, small and full or medium breasts, also saggy and lacking firmness.  
EFFECT: Optically enlarges breasts, pushes them together, rounds and lifts up.
Description
Flirtatious push-up bra designed to enhance female curves. Styled in tulle and enticing flock material.
Two-piece cups made of thin corsetry foam,
Cups cotton coated inside for better comfort,
Removable inserts placed in special pockets,
Bra band made of tulle,
Adjustable and removable shoulder straps,
Side boning prevents bra band folding up over itself,
Subtle ribbon bow and a glossy ornament are placed between the cups.
Opinions about Austin/B1 push-up bra
5.00
Number of opinions issued: 1
Click a rating to filter reviews
| Size | Under bust (cm) | Bust (cm) |
| --- | --- | --- |
| 65B | 63-67 | 79-81 |
| 65C | 63-67 | 81-83 |
| 65D | 63-67 | 83-85 |
| 65E | 63-67 | 85-87 |
| 65F | 63-67 | 87-89 |
| 70A | 68-72 | 82-84 |
| 70B | 68-72 | 84-86 |
| 70C | 68-72 | 86-88 |
| 70D | 68-72 | 88-90 |
| 70E | 68-72 | 90-92 |
| 70F | 68-72 | 92-94 |
| 75A | 73-77 | 87-89 |
| 75B | 73-77 | 89-91 |
| 75C | 73-77 | 91-93 |
| 75D | 73-77 | 93-95 |
| 75E | 73-77 | 95-97 |
| 80B | 78-82 | 94-96 |
| 80C | 78-82 | 96-98 |
| 80D | 78-82 | 98-100 |
| 85B | 83-87 | 99-101 |
| 85C | 83-87 | 101-103 |