B-202More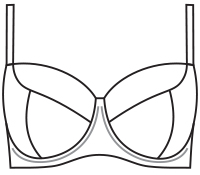 CUPS - CONSTRUCTION: Three-piece cups with one oblique and one vertical cut
CUPS - TYPE AND FINISH: Cups sewn from embroidery, lace or jersey. Side panels provides better support and brings the breast together towards the center.
CENTER: mid-high
BUST TYPE AND SILHOUETTE: It fits most silhouettes and breasts. Thanks to elastic material it adjust to the bust.  Recommended for delicate breast asymmetry.
EFFECT: The breast is lifted up and looks naturally. Side panels from delicate mesh provides better support.
Description
Sensuous soft bra enhances female curves. Cups overlaid with soft, beige elastic tulle, decorated with black, floral pattern. Decorative straps creates an original effect.
Underwired soft cups,
Bra band made of elastic tulle,
Adjustable, non-detachable shoulder straps,
Decorative straps over the cups,
Side boning prevents bra band folding up over itself.
| Size | Under bust (cm) | Bust (cm) |
| --- | --- | --- |
| 65C | 63-67 | 81-83 |
| 65D | 63-67 | 83-85 |
| 65E | 63-67 | 85-87 |
| 65F | 63-67 | 87-89 |
| 65G | 63-67 | 89-91 |
| 65H | 63-67 | 91-93 |
| 70B | 68-72 | 84-86 |
| 70C | 68-72 | 86-88 |
| 70D | 68-72 | 88-90 |
| 70E | 68-72 | 90-92 |
| 70F | 68-72 | 92-94 |
| 70G | 68-72 | 94-96 |
| 70H | 68-72 | 96-98 |
| 75B | 73-77 | 89-91 |
| 75C | 73-77 | 91-93 |
| 75D | 73-77 | 93-95 |
| 75E | 73-77 | 95-97 |
| 75F | 73-77 | 97-99 |
| 75G | 73-77 | 99-101 |
| 75H | 73-77 | 101-103 |
| 80B | 78-82 | 94-96 |
| 80C | 78-82 | 96-98 |
| 80D | 78-82 | 98-100 |
| 80E | 78-82 | 100-102 |
| 80F | 78-82 | 102-104 |
| 80G | 78-82 | 104-106 |
| 80H | 78-82 | 106-108 |
| 85B | 83-87 | 99-101 |
| 85C | 83-87 | 101-103 |
| 85D | 83-87 | 103-105 |
| 85E | 83-87 | 105-107 |
| 85F | 83-87 | 107-109 |
| 85G | 83-87 | 109-111 |
| 85H | 83-87 | 111-113 |
| 90B | 88-92 | 104-106 |
| 90C | 88-92 | 106-108 |
| 90D | 88-92 | 108-110 |
| 90E | 88-92 | 110-112 |
| 90F | 88-92 | 112-114 |
| 90G | 88-92 | 114-116 |
| 90H | 88-92 | 116-118 |
| 95B | 93-97 | 109-111 |
| 95C | 93-97 | 111-113 |
| 95D | 93-97 | 113-115 |
| 95E | 93-97 | 115-117 |
| 95F | 93-97 | 117-119 |
| 95G | 93-97 | 119-121 |
| 100D | 98-102 | 118-120 |
| 100E | 98-102 | 120-122 |
| 100F | 98-102 | 122-124 |