B-205More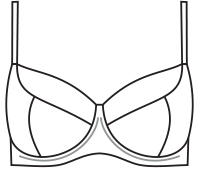 CUPS - CONSTRUCTION: Three-piece cups with one oblique and one vertical cut
CUPS - TYPE AND FINISH: Cups sewn from embroidery. Better support provided with extra tulle in the bottom part of the cup.
CENTER: mid-high
BUST TYPE AND SILHOUETTE: It fits most silhouettes. Best for firm breast and also with less firmness.  
EFFECT: Optically lifts up the breast and brings it together towards the center thanks to the extra mesh located inside the bottom part of the cup.
Description
Unique soft bra enhances female curves. Styled in elastic tulle and sapphire lace. Shiny gemstone placed between the cups adds a special touch.
Underwired soft cups,
Bra band made of elastic tulle,
Adjustable, non-detachable shoulder straps,
Side boning prevents bra band folding up over itself.
| Size | Under bust (cm) | Bust (cm) |
| --- | --- | --- |
| 65E | 63-67 | 85-87 |
| 65F | 63-67 | 87-89 |
| 65G | 63-67 | 89-91 |
| 65H | 63-67 | 91-93 |
| 65I | 63-67 | 93-95 |
| 65J | 63-67 | 95-97 |
| 70D | 68-72 | 88-90 |
| 70E | 68-72 | 90-92 |
| 70F | 68-72 | 92-94 |
| 70G | 68-72 | 94-96 |
| 70H | 68-72 | 96-98 |
| 70I | 68-72 | 98-100 |
| 70J | 68-72 | 100-102 |
| 75C | 73-77 | 91-93 |
| 75D | 73-77 | 93-95 |
| 75E | 73-77 | 95-97 |
| 75F | 73-77 | 97-99 |
| 75G | 73-77 | 99-101 |
| 75H | 73-77 | 101-103 |
| 75I | 73-77 | 103-105 |
| 75J | 73-77 | 105-107 |
| 80B | 78-82 | 94-96 |
| 80C | 78-82 | 96-98 |
| 80D | 78-82 | 98-100 |
| 80E | 78-82 | 100-102 |
| 80F | 78-82 | 102-104 |
| 80G | 78-82 | 104-106 |
| 80H | 78-82 | 106-108 |
| 80I | 78-82 | 108-110 |
| 80J | 78-82 | 110-112 |
| 85B | 83-87 | 99-101 |
| 85C | 83-87 | 101-103 |
| 85D | 83-87 | 103-105 |
| 85E | 83-87 | 105-107 |
| 85F | 83-87 | 107-109 |
| 85G | 83-87 | 109-111 |
| 85H | 83-87 | 111-113 |
| 85I | 83-87 | 113-115 |
| 85J | 83-87 | 115-117 |
| 90B | 88-92 | 104-106 |
| 90C | 88-92 | 106-108 |
| 90D | 88-92 | 108-110 |
| 90E | 88-92 | 110-112 |
| 90F | 88-92 | 112-114 |
| 90G | 88-92 | 114-116 |
| 90H | 88-92 | 116-118 |
| 90I | 88-92 | 118-120 |
| 90J | 88-92 | 120-122 |
| 95B | 93-97 | 109-111 |
| 95C | 93-97 | 111-113 |
| 95D | 93-97 | 113-115 |
| 95E | 93-97 | 115-117 |
| 95F | 93-97 | 117-119 |
| 95G | 93-97 | 119-121 |
| 95H | 93-97 | 121-123 |
| 95I | 93-97 | 123-125 |
| 100D | 98-102 | 118-120 |
| 100E | 98-102 | 120-122 |
| 100F | 98-102 | 122-124 |
| 100G | 98-102 | 124-126 |
| 100H | 98-102 | 126-128 |