B-502More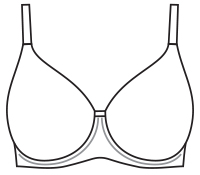 CUPS - CONSTRUCTION: One-piece cups, made from special, "spacer" thermoformed foam
CUPS - TYPE AND FINISH: Cups thermoformed, seamless. Made from special foam which adjust to the shape of breast. Innovative and breathable material.
CENTER: mid
BUST TYPE AND SILHOUETTE: Best for big or medium breast.
EFFECT: The breast looks naturally without extra volume, is subtly lifted up and brought together towards the center.
Detailed information
Classic, smooth moulded bra gives gorgeous cleavage and support. Satin ribbon bow at the front panel adds a pretty touch.
Seamless, moulded, breathable cups,
Bra band made of smooth fabric,
Adjustable, non-detachable shoulder straps,
Side boning prevents bra band folding up over itself.
| Size | Under bust (cm) | Bust (cm) |
| --- | --- | --- |
| 65E | 63-67 | 85-87 |
| 65F | 63-67 | 87-89 |
| 65G | 63-67 | 89-91 |
| 65H | 63-67 | 91-93 |
| 65I | 63-67 | 93-95 |
| 65J | 63-67 | 95-97 |
| 70D | 68-72 | 88-90 |
| 70E | 68-72 | 90-92 |
| 70F | 68-72 | 92-94 |
| 70G | 68-72 | 94-96 |
| 70H | 68-72 | 96-98 |
| 70I | 68-72 | 98-100 |
| 70J | 68-72 | 100-102 |
| 75C | 73-77 | 91-93 |
| 75D | 73-77 | 93-95 |
| 75E | 73-77 | 95-97 |
| 75F | 73-77 | 97-99 |
| 75G | 73-77 | 99-101 |
| 75H | 73-77 | 101-103 |
| 75I | 73-77 | 103-105 |
| 75J | 73-77 | 105-107 |
| 80B | 78-82 | 94-96 |
| 80C | 78-82 | 96-98 |
| 80D | 78-82 | 98-100 |
| 80E | 78-82 | 100-102 |
| 80F | 78-82 | 102-104 |
| 80G | 78-82 | 104-106 |
| 80H | 78-82 | 106-108 |
| 80I | 78-82 | 108-110 |
| 85B | 83-87 | 99-101 |
| 85C | 83-87 | 101-103 |
| 85D | 83-87 | 103-105 |
| 85E | 83-87 | 105-107 |
| 85F | 83-87 | 107-109 |
| 85G | 83-87 | 109-111 |
| 85H | 83-87 | 111-113 |
| 90B | 88-92 | 104-106 |
| 90C | 88-92 | 106-108 |
| 90D | 88-92 | 108-110 |
| 90E | 88-92 | 110-112 |
| 90F | 88-92 | 112-114 |
| 90G | 88-92 | 114-116 |
| 95B | 93-97 | 109-111 |
| 95C | 93-97 | 111-113 |
| 95D | 93-97 | 113-115 |
| 95E | 93-97 | 115-117 |
| 95F | 93-97 | 117-119 |
| 100D | 98-102 | 118-120 |
| 100E | 98-102 | 120-122 |