B-400AMore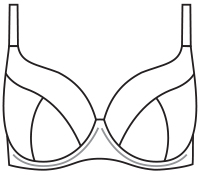 CUPS - CONSTRUCTION: Three-piece cups with one oblique, one vertical cut on the bottom of the cup
CUPS - TYPE AND FINISH: Cups sewn, made of thin corsetry foam. Usually overlaid with lace, embroidery or jersey. The upper cup line higher at the strap height.
CENTER: mid-high
BUST TYPE AND SILHOUETTE: Best for big or medium breast. Perfect for bit more covered necklines.
EFFECT: The breast looks naturally, is lifted up.
Detailed information
Classic and elegant padded bra provides gorgeous cleavage and support. Styled in smooth fabric decorated with beautiful embroidery. Subtle ribbon bow at the front panel adds a feminine touch.
Three-piece cups made of corsetry foam,
Cups cotton coated inside for better comfort,
Bra band made of smooth jersey fabric,
Adjustable, detachable shoulder straps,
Side boning prevents bra band folding up over itself.
Opinions about Yvette/B4 padded bra
5.00
Number of opinions issued: 40
Click the rating to filter reviews
| Size | Under bust (cm) | Bust (cm) |
| --- | --- | --- |
| 65C | 63-67 | 81-83 |
| 65D | 63-67 | 83-85 |
| 65E | 63-67 | 85-87 |
| 65F | 63-67 | 87-89 |
| 65G | 63-67 | 89-91 |
| 65H | 63-67 | 91-93 |
| 70B | 68-72 | 84-86 |
| 70C | 68-72 | 86-88 |
| 70D | 68-72 | 88-90 |
| 70E | 68-72 | 90-92 |
| 70F | 68-72 | 92-94 |
| 70G | 68-72 | 94-96 |
| 70H | 68-72 | 96-98 |
| 75B | 73-77 | 89-91 |
| 75C | 73-77 | 91-93 |
| 75D | 73-77 | 93-95 |
| 75E | 73-77 | 95-97 |
| 75F | 73-77 | 97-99 |
| 75G | 73-77 | 99-101 |
| 75H | 73-77 | 101-103 |
| 80B | 78-82 | 94-96 |
| 80C | 78-82 | 96-98 |
| 80D | 78-82 | 98-100 |
| 80E | 78-82 | 100-102 |
| 80F | 78-82 | 102-104 |
| 80G | 78-82 | 104-106 |
| 80H | 78-82 | 106-108 |
| 85B | 83-87 | 99-101 |
| 85C | 83-87 | 101-103 |
| 85D | 83-87 | 103-105 |
| 85E | 83-87 | 105-107 |
| 85F | 83-87 | 107-109 |
| 85G | 83-87 | 109-111 |
| 85H | 83-87 | 111-113 |
| 90B | 88-92 | 104-106 |
| 90C | 88-92 | 106-108 |
| 90D | 88-92 | 108-110 |
| 90E | 88-92 | 110-112 |
| 90F | 88-92 | 112-114 |
| 90G | 88-92 | 114-116 |
| 90H | 88-92 | 116-118 |
| 95B | 93-97 | 109-111 |
| 95C | 93-97 | 111-113 |
| 95D | 93-97 | 113-115 |
| 95E | 93-97 | 115-117 |
| 95F | 93-97 | 117-119 |
| 95G | 93-97 | 119-121 |
| 100D | 98-102 | 118-120 |
| 100E | 98-102 | 120-122 |
| 100F | 98-102 | 122-124 |