On special offer
Our bestseller
-20%
Celine/B4 padded bra
B-402More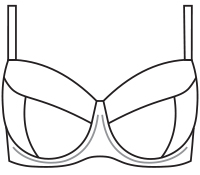 CUPS - CONSTRUCTION: Three-piece cups with one oblique, one vertical cut on the bottom of the cup
CUPS - TYPE AND FINISH: Cups sewn, made of thin corsetry foam. Usually overlaid with lace, embroidery or jersey.
CENTER: mid-high
BUST TYPE AND SILHOUETTE: Best for big or medium breast. Perfect for bit more covered necklines. 
EFFECT: Subtly lifts up, round the breast and brings it together towards the center.
Detailed information
Incredibly sensual padded bra beautifully enhances the cleavage. Made of fabric with glittering tiny dots and black elastic tulle. Decorative straps at the front and delicate bow between cups add a special charm.
Three-piece cups made of beige corsetry foam,
Cups cotton coated inside for better comfort,
Bra band made of elastic tulle embellished with stripy accent,
Adjustable and non-removable decorative shoulder straps,
Side boning preventing bra band folding up over itself.
Opinions about Celine/B4 padded bra
5.00
Number of opinions issued: 16
Click the rating to filter reviews
| Size | Under bust (cm) | Bust (cm) |
| --- | --- | --- |
| 65C | 63-67 | 81-83 |
| 65D | 63-67 | 83-85 |
| 65E | 63-67 | 85-87 |
| 65F | 63-67 | 87-89 |
| 65G | 63-67 | 89-91 |
| 65H | 63-67 | 91-93 |
| 70B | 68-72 | 84-86 |
| 70C | 68-72 | 86-88 |
| 70D | 68-72 | 88-90 |
| 70E | 68-72 | 90-92 |
| 70F | 68-72 | 92-94 |
| 70G | 68-72 | 94-96 |
| 70H | 68-72 | 96-98 |
| 75B | 73-77 | 89-91 |
| 75C | 73-77 | 91-93 |
| 75D | 73-77 | 93-95 |
| 75E | 73-77 | 95-97 |
| 75F | 73-77 | 97-99 |
| 75G | 73-77 | 99-101 |
| 75H | 73-77 | 101-103 |
| 80B | 78-82 | 94-96 |
| 80C | 78-82 | 96-98 |
| 80D | 78-82 | 98-100 |
| 80E | 78-82 | 100-102 |
| 80F | 78-82 | 102-104 |
| 80G | 78-82 | 104-106 |
| 80H | 78-82 | 106-108 |
| 85B | 83-87 | 99-101 |
| 85C | 83-87 | 101-103 |
| 85D | 83-87 | 103-105 |
| 85E | 83-87 | 105-107 |
| 85F | 83-87 | 107-109 |
| 85G | 83-87 | 109-111 |
| 85H | 83-87 | 111-113 |
| 90B | 88-92 | 104-106 |
| 90C | 88-92 | 106-108 |
| 90D | 88-92 | 108-110 |
| 90E | 88-92 | 110-112 |
| 90F | 88-92 | 112-114 |
| 90G | 88-92 | 114-116 |
| 90H | 88-92 | 116-118 |
| 95B | 93-97 | 109-111 |
| 95C | 93-97 | 111-113 |
| 95D | 93-97 | 113-115 |
| 95E | 93-97 | 115-117 |
| 95F | 93-97 | 117-119 |
| 95G | 93-97 | 119-121 |
| 100D | 98-102 | 118-120 |
| 100E | 98-102 | 120-122 |
| 100F | 98-102 | 122-124 |